30th International Guitar Festival Iserlohn 2022
The central locations of the festival will be the Stenner Gymnasium Iserlohn with its very large classrooms and the Iserlohn Municipal Gallery in the beautiful building from the 17th century. The lessons, lectures, rehearsals with the guitar ensemble (with Gerald Garcia) and the exhibitions of the guitar makers will take place here. All other locations of the festival (hotels, restaurants, concert venue) are in the center of the city of Iserlohn within walking distance.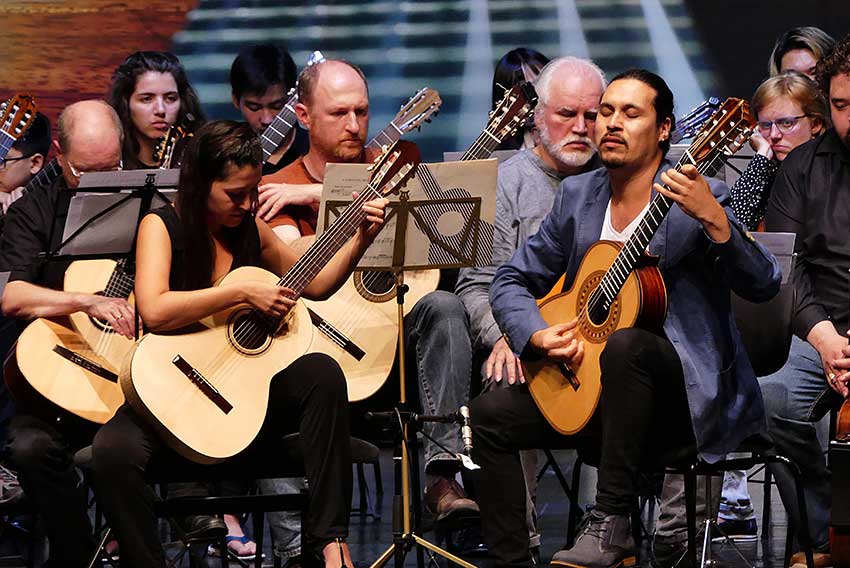 Concert with the ensemble.
Concerts will take place in the Oberste Stadtkirche Iserlohn - seating capacity of over 550 places will make it possible to keep enough distance if necessary. Entertainment after the concerts is also provided here.
All participants and lecturers will stay in four hotels (different price categories), which are 2-4 minutes walk from the festival locations.
Lunch and dinner are offered in 3 restaurants in the immediate vicinity of the festival locations. Several cafes and snack restaurants are also within walking distance.
Master classes, lectures, exhibitions and Gerald Garcia's ensemble will take place in the the rooms of the Städtische Galerie Iserlohn (3 minutes from the Oberste Stadtkirche).
We strongly recommend to register by March 31st 2022, as the hotel capacities probably will then be reached - the maximum number of participants is 100.
Hotels must be booked and paid for independently - there is an attractive special rate for festival visitors. Details can be found here
In the restaurants, all participants pay themselves - here too, we have negotiated special rates.
The fee for visiting the festival (three or four hours of active lessons / all concerts, exhibitions, lectures, technique- and ensemble lessons) is 100 or 130 euros. Participation in the festival and competition costs 150 euros. Participation in the competition only costs 50 euros.
Tickets for the concerts at the 30th Iserlohn Guitar Festival 2022 are now available at the Stadthotel Iserlohn (Tel. +49 (0) 2371/159790) and at the Stadtinfo Iserlohn at the train station (Tel. +49 (0) 2371/2171819).
More lectures and more surprises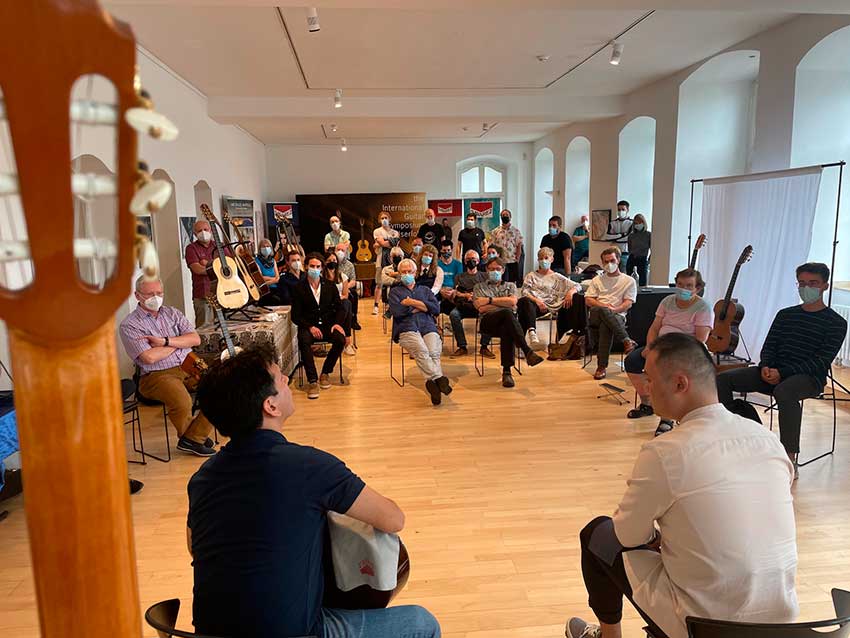 Comparison of guitar makers.
The festival program includes the 11th MARTINEZ Competition, concerts and lessons with: Jorge Caballero, Göran Söllscher, Eden-Stell Duo, Laura Young, Rene Izquierdo, Baltic Guitar Quartet, Margarita Escarpa, Dale Kavanagh, Duo Pelech-Horna, David Pavlovits and Gabriel Bianco.
In addition, we offer, master classes with Bruce Holzman, Tom Johnson, Danielle Cumming, Hans-Werner Huppertz, Frank Gerstmeier, Ulrich Stracke, Stefan Koim, Thomas Kirchhoff and others.
Five lectures, afternoon concerts, a guitar comparison and more surprises will be offered during the week.
The 11th Int. MARTINEZ competition (1st round online) takes place Wednesday, July 27th 2022 (2nd round), and Friday, July 29th 2022 (finals).
Exhibitions of many guitar makers round off the festival with their exhibitions.